Biography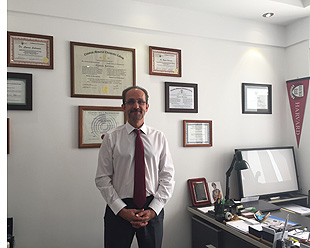 EDUCATION & CERTIFICATIONS
Secondary School Diploma, Science (Honor degree), daneshgaheh Meli (Bahonar) high School, Tehran, Iran, 09/1979-09/1983
Medical Doctor (MD, GP), Iran/Tehran University of Medical Sciences, Tehran, Iran 09/1984-09/1991, Included 17 month internship rotation through major specialties (GPA=A)
Certificate of Contemporary Medical Acupuncture in Pain Management, McMaster University, Anesthesia Dept., Hamilton, ON, 126 MANI-PRO credits with CFPC 09/2000-06/2001
Certificate of Medical Acupuncture in Sports Injuries, McMaster University, Anesthesia Dept., Hamilton, ON, 24 MANI-PRO credits with CFPC 09/2000-06/2001
Doctor of Chiropractic (DC), Canadian Memorial Chiropractic College, Toronto, 08/1999-06/2003 successfully completed Canadian national and provincial (ONT) boards, legislation, ethic exams
Certificate of Continuing Medical Education (125pts/hrs), Shahid Beheshti Medical University, Tehran, Iran, 22/06/2006
Certificate of Passing Medical Council of Canada Evaluating Examination, Sep 2007
Certificate of Continuing Medical Education (125pts/hrs), Shahid Beheshti Medical University, Tehran, Iran, Aug/2011
Certificate of Continuing Chiropractic Education (125 pts/hrs), shahid Beheshti Medical University, Tehran, Iran, Dec/2012
Certificate of Training and Continuing Education in Low Level/ Cold Laser Therapy in Meditech International Research and Educational Center, Toronto, Canada, Dec/2014
40 hours of Continuing Canadian Chiropractic Education, Toronto/Canada, for Chiropractic license renewal (For 2 years)(Cycle 2014-2016) by the College of Chiropractors of Ontario (CCO)
Observation/Training in Pain Management at Allevio Pain Management Clinic as an International Medical Doctor Toronto, Canada, April 2014- May 2014; observing and training in management and treatment of patients with chronic pain/Sport injuries originating from spinal/Joint/MSK disorders mainly via injection: Epidural, Post. Spinal medial nerve branch block with RF under fluoroscope, Joints/muscles/Ligaments/Tendons injection with cortisone, lidocain, PRP under Ultrasound guide.
Certification in Neuro-proprioceptive Taping/ Kinesio Taping in Pain management and Athletes injuries, BSN Medical, InsideOut Physiotherapy Wellness Group, Toronto, Canada, June 2014
Certified in Cox Technic Spinal Decompression/Flexion Distraction from National University of Health Sciences in Chicago July 2014, Fort Wayne, Indiana, USA
Specialty in treating Spinal Pain/Disc Herniations/ Canal Stenosis and Degenerations/ Kyphosis/scoliosis/Postural disorders/Spondylolisthesis / Fail neck and back surgery syndrom
Harvard Medical University, Boston, Massachusetts, USA, June 2015
continuing education in, pain medicine/ management , Evaluating and Treating Pain, Principles and Practice of Pain Medicine – 2015 – 2015
CAREER HIGHLIGHTS AND SKILLS
• Excellent interpersonal skills in Farsi (Native tongue), Azarbaijnai, and English in written and academic professional communication
• Excellent training, skills and experience in Medicine and Chiropractic field
• Doctor of Chiropractic: Using Manual Medicine/chiropractic manipulation
( Diversified techniques), Flexion distraction, pulsed adjustment with Arthrosteam/Activator, Decompression(Axiom9000), Soft tissue therapy, acupuncture, Laser Therapy with total of 11 years of practice in Canada and Iran , mainly in lumbar and cervical disc Herniations (even post-surgical ) , Motor Vehicle accident patients, WSIB Cases, Musculoskeletal areas of expertise and Sport injuries
• Excellent experience for more than 11 years in Reading Spinal/Joints MRIs/X-rays
• Over 15 years of practicing Medicine in Iran and the United Nations (UNHCR)
LICENSES & MEMBERSHIPS
• Permanent Medical Doctor License of Iran and Active membership with the Medical Council of Iran, In Good Standing 1991- Present
• CPR: Canadian Memorial Chiropractic College in 2000 and Iran medical university in 1984, Shahid Beheshti Medical University, Tehran, Iran, Aug 2011
• Active membership with the college of Chiropractors of Ontario (CCO), OCA, CCA CCPA, In Good Standing 2003 to present
• Iranian permanent License of Chiropractic Medicine, In Good Standing, 2004 to present
• Board member of Iranian Chiropractic Association (IRCA), member of educational-research committee 2004- Jun 2013
PROFESSIONAL AND RELATED WORK EXPERIENCE IN IRAN
Medical Doctor/General Practitioner /ER Physician & Consultant, Iranian Ministry of Health (FT), Rural Paveh, Kermanshah, Iran1991- Feb. 1993
Medical Doctor/General Physician, ER Dept. (PT), Resalat Hospital Tehran, Iran 1993-1996
Medical Doctor/General Physician, Occupational Health Consultant (PT), Gherghereh Ziba Factory Tehran, Iran ,1993-1996
Medical Doctor/ Medical Health Consultant (FT), United Nations ( UNHCR),Tehran, Iran 06/1994-12/1997
Doctor of Chiropractic and Medical Doctor: Self-Owned Private Clinic Tehran, Iran, 10/2004- June 2013
Duties included assessment of patients of all ages, background. Using skills to perform procedures in manual diversified chiropractic therapy/ flexion distraction/acupuncture in private practice, as well as working as a GP with patients of all profiles in routine cases including MVA cases, reporting to authorities and counseling. Visiting almost 50-60 patients/day. Having more than 70,000 chiropractic treatments with almost 70-80% success rate on patients with lumbar and cervical disc herniations even those with fail back syndrome , post surgical low back disc herniations and canal stenosis. Treating athletes with sport injuries. More than 4200 cases of Lumbar Disc Herniations' treatment via Spinal Decompression (by Axiom 9000). Visiting more than 16000 new patients in Tehran/Iran with reading their MRIs-X.Rays and earning great experience in spinal MRI reading and related treatments
CANADIAN EXPERIENCE
Assistant to Family Physician, with Dr. Sadry, MD, (PT) Crescent Town Health Center, Scarborough, Toronto, ON June1998- Feb2002
Duties included assisting well-established licensed Canadian physician in patient examinations where permissible, taking patient histories, arranging tests and referrals, paperworks and filing, etc.
Clinical Director/Doctor of Chiropractic (FT), Physio-Med( Birchmount and Yorkdale locations) Toronto, ON 08/2003-09/2004
Duties included assessment of patients/ managing patients via chiropractic care, manual therapy, physical rehabilitation, and treatment to patients in collaboration with kinesiologists, physiotherapists, massage therapists, and other medical experts at a well-known, well-established medical centers. Prescribing Wellness programs. Treated my own private patients presenting with musculoskeletal and spinal problems/MVA and WSIB injuries. Managed financial and expense related operations, with attention to cost-effectiveness, working directly with CEO as main coordinator of the entire company. Treated chronic low-back and neck pain, herniated discs, sciatica, athletes' injuries and joint problems using acupuncture, chiropractic and physical/Soft tissue therapy.
Doctor of chiropractic in different clinics in Toronto: Eg. Yonge and centre chiropractic Rehab, Richmond Hill Medical Clinic (Main location), Trinity Rehab,…. June 2013- present
Running family chiropractic and Rehab practice, treating MVA/Sport injuries/WSIB patients/ Muscloskeletal-Spinal disorders. Treating patients via Diversified technique, Flexion distraction, Low level/cold Laser, Activator/Arthrosteam pulsed technique, VMTX/Vibromax therapy technique, Medical acupuncture and Physical therapy.
APPRECIATIONS AND AWARDS
Letter of Appreciation, UNHCR (UN High Commissioners for Refugees), Iran 1996
Philip Martine Memorial Nutritional Award, Canadian Memorial Chiropractic College 2003
RESEARCH
1- Retrospective study on intertrochanteric fracture of the neck of the femur, Iran University of Medical Health Sciences, Tehran, Jan 1991- Aug 1991
2- A case report of lumbar disc herniation management, Canadian memorial Chiropractic College, Toronto, Jan2003- Aug 2003
My Own Lectures/Presentations
1-Introduction to chiropractic , 7/2005, Tehran/ Milad hospital
2-Lumbar disc herniations and chiropractic management with related MRIs/X.Rays, 10/2007, Iranian chiropractic association( IRCA)/ Tehran
3-Non-surgical management of patients with lumbar spinal canal stenosis with related MRIs/ X.Rays from text books and my own patients, 3/2008, IRCA
4-Manipulation in the presence of cervical spinal cord compression(case series) with related imaging studies from text and my own patients, 4/2008,IRCA/ Tehran
5-The non-manipulable sublaxations with related imaging studies from text and my own patients, IRCA/Tehran, 05/2008
6-Neurological examination for chiropractors, 10/2010, IRCA/Tehran/Moheb hospital
7- Differential diagnosis of shoulder disorders, 10/2011, IRCA/ Tehran
8- Introduction to Chiropractic, National TV(IRIB) interview in Tehran/ Iran, 10/ 2011
9-Chiropractic treatment and prevention in low back pain/low back disc herniation. National TV interview in Tehran/Iran , Channel 5, NOV/ 2012
10-Causes of Neck pain, Neck disc herniation/ its treatment and prevention via chiropractic care. Interview on Iranian National TV(IRIB 5), Channel 5, Nov/ 2012
11-Lecture in Thoracic outlet syndrome, monthly presentation in IRCA, Tehran, Nov/ 2012
12- Weekly public educational articles in Iranstar Journal, Toronto, Since Sep2013-present